Encouraging Healthy Living and Mentorship – #1 Rule Have Fun!
During our Superkids season we offer a weekly program for children ages 6-12 that runs every Saturday for approximately two months.
The program is a place to creatively learn healthy living skills, grow in faith, and relate to others in a caring atmosphere. The day is filled with games, songs, Bible stories, a healthy lunch, and special events, all based on encouraging growth, inspiring productive lifestyles, and developing future leaders.
"We are so thankful for the privilege to provide a safe and fun atmosphere where Victoria kids from low income and at-risk situations can come and feel at home. There is a big need for this and we love to plant positive seeds in the lives of each child, which will help them make healthy choices in their lives. Each child is a work of art, a beautiful creation, and we love to bless and call forth the uniqueness and gifting of each one."  ~Andrea Power – Children's Program Director
REGISTRATION:
Registration is currently closed as we work to finalize a venue. Please check back frequently as program details and a registration form will be available soon!
Do You Need a Ride to Attend SuperKids?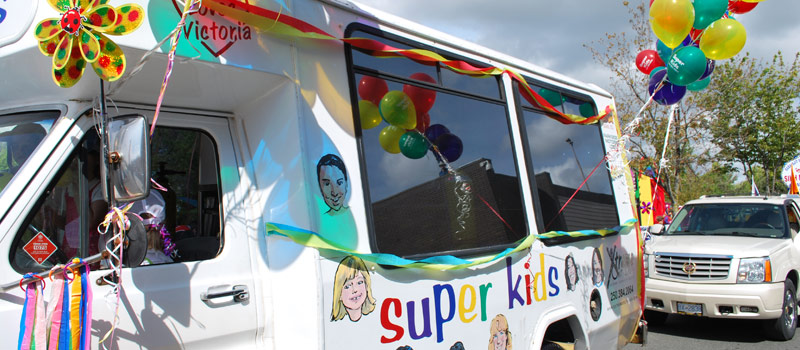 Each Superkids Saturday starts with a ride on the bus! We pick kids up at several different locations throughout Victoria. However, if you stand anywhere along the route with a handmade sign that says "SUPERKIDS", and jump up and down or wave your hands, the bus will stop for you anywhere along the roads that the map shows.
Pick up route Locations and times:
11:05am – 224 Esquimalt Rd (Town house complex by the skate park)
11:10am – 822 Esquimalt Rd (at the bus stop)
11:15am – 735 Admirals Rd
11:25am – 1445 Craigflower Rd (at the bus stop just past Pacific Village complex)
11:35am – 901 Kings Rd Blanshard Court Housing (at the community Center)
*All times are approximate*
SuperKids Bus Route 
We encourage a healthy lifestyle by providing mentorship and a wholesome meal each week. Lunch starts at noon!
After some fun-filled games and activities, we take the time to thank God for all He has given us. Worship time is a favourite with the kids.
Volunteers and Donations Needed
Want to join a community of like-minded individuals passionate about making a positive influence for at-risk children and their families? Get involved!
Our programs are volunteer based and rely on the generosity of our sponsors to keep things running smoothly.
Our biggest need right now is Monthly Sponsorship to allow us to plan and budget programs throughout the year. To become a monthly sponsor or to make a general donation please visit our Ways to Donate page.
To become a volunteer, visit our Volunteer page.
Superkids Saturday Photo Gallery