Extreme Coffee House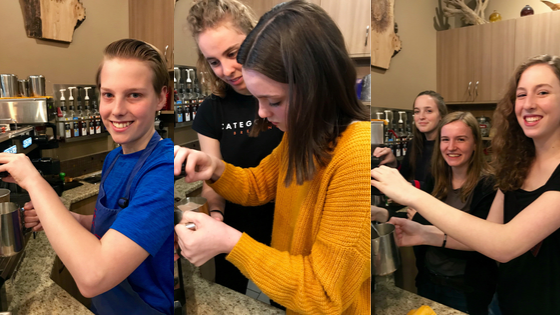 Coffee with a Cause – A Place for Gathering and Giving Back
Our Extreme Coffee House in View Royal is a calm and peaceful sanctuary for everyone. We serve your favourite specialty teas, espresso drinks, or purist black with locally roasted coffee beans. Combine that glorious cup of coffee with helping local kids in Victoria, and you have a match made in heaven!
A haven for coffee beans and compassion, we are both a Coffee House and an outreach program. All food and drink purchases are 100% by donation. Proceeds after expenses go to support our programs. Who knew a simple cup of coffee could make such an impact? And the best thing is you can share in the cause! We serve fresh sandwiches and delicious baked goods daily, as well as soup and chili in the fall and winter months. We have complimentary WiFi and a Kids Corner with toys, puzzles, games and books.
Our coffee beans are from Galloping Goose Coffee, which buys the coffee from smallholder farmers through their long-term trusted trade relationships, paying the best price for their coffee. Here at home, they are meticulous about roasting. This ensures sustainability for farmers and traders and a great cup of coffee. Certifications at origins include Fairtrade, organic and Rainforest Alliance.
Hours and location
Monday to Friday, 8:30 am to 3:30 pm

Extreme Coffee House
102 – 284 Helmcken Rd.
Victoria, BC V9B 1T2
Please note: Free parking is available in front of or behind the building. View map below
Rent the Coffee House for Your Next Event
Have a group that needs a venue to meet up? Would you like to share your music with an audience? The Extreme Coffee House welcomes groups and individuals seeking space to gather while giving back to their community! All proceeds go towards the programs run by Extreme Outreach. Learn more
Extreme Coffee House Creates Opportunities for Youth
While you enjoy a warm drink or snack at our Coffee House, you create opportunities for youth in the community. Learn more about our Youth Job Skills Training program.
We are passionate about making a lasting difference in kids' lives. By providing our seasonal programs and Extreme Adventures, we can connect and support local disadvantaged children and lend an ear to families who could use extra support when times are hard. We are grateful for our community which shares in our vision to make connections, build confidence and plant seeds of promise early in life.