Due to the ongoing COVID-19 pandemic, the BC government has announced that no overnight camps will be allowed to run this summer. In place of our 17th Annual SuperKids Summer Camp, we will be hosting SuperKids BBQ Adventures at different locations in Greater Victoria. We will be following all the provided health guidelines to ensure safe and fun filled days.
We love camp and are committed to ensuring that kids in our community have the opportunity to enjoy a true summer camp experience, regardless of economic circumstance. While we are unable to provide the same experience of our SuperKids Summer Camp, we want to share hope and encouragement with the kids by bringing a summer adventure to them! In July, we will be going to different locations in Greater Victoria to meet the kids where they are. We will be providing meals, games, and fun filled activities for the kids and their families. We want to give the families a space to gather safely and create new summer memories with their kids. These are not day camps where the kids will be signed up and left by their parents. These will be days for families to gather as one and have fun all together. This is the safest way we can provide a summer program this year.
How Can You Attend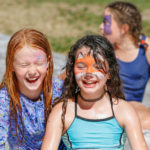 We will be contacting past SuperKids to let them know about this summer. We will contact them directly when we will be in their area for their BBQ Adventure. If you are not contacted by us, but would like to be given information about where we'll be, feel free to contact us and we will share the information with you!
At the Events
In accordance with Public Health Orders, everyone looking to come to the BBQ Adventures will be required to remain 2m/6ft apart from anyone outside their household. We will be providing blankets that will be spaced out for families to gather and enjoy their meal. Blankets will be fully washed betweens use. Families are free to bring their own lawn chairs and blankets. 50 people is the maximum number allowed at a one time event and we will be abiding by this order. Hand sanitizer will be provided for everyone to use. Any games and activities provided will be done so in a safe manner that still allows for fun. Anyone displaying symptoms of COVID-19 will be asked to stay home. If anyone develops symptoms at the event, they will be asked to go home to lessen the risk of exposure to everyone else. Symptoms of COVID-19 are as follows:
Fever
Chills
New or worsening cough
Shortness of breath
New muscle aches or headache
Sore throat
How You Can Help
As with all our programs, community support is critical in order to serve underprivileged kids and their families. All costs for this program will be covered by our fundraising efforts. If you are able to provide monetary support, click the link below!